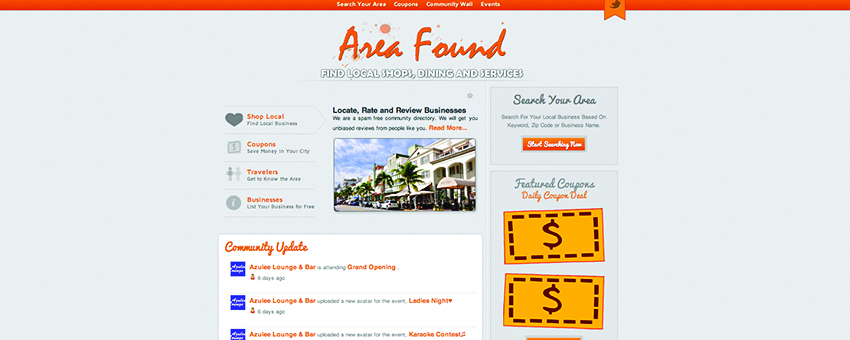 There are lots of resources for finding local businesses in your area. From shops to dining, you're always on the hunt for a new adventure. There are also plenty of places to find great discounts and coupons to these same places. Now there's one easy place to look to find both on the same great website. Area Found is the newest local marketplace for finding reviews on brick-and-mortar stores in your area, as well as the great discounts they offer.
Area Found is the newest resources for local search. With hundreds of thousands of businesses listed to date, you'll be sure to find something you've never tried before right in the comfort of your own city. You can search by business name, keyword, or just a zip code if you're feeling adventurous with no real place to go.
Area Found is also your one-stop shop if you're planning on visiting a specific city. For travelers, the only resource for finding things to see is advertising, where locations pay to be listed, so you don't get an unbiased view on anything that's available to you. With Area Found, you get reviews from real people just like you, with no limitation on who is listed in any specific directory. Make your trip more enjoyable with Area Found's business and visitor listings.
If it's deep discounts you're on the hunt for from your favorite local businesses, you no longer need to turn to daily emails from coupon sites that normally send you discounts that are completely irrelevant to your interests. With Area Found, you can now find discounts on your favorite local business right within their listings. Get local business reviews before you purchase any coupon, as well as pertinent information about the shop or restaurant that's offering a discount. You wouldn't get an oil change without seeing if the company that's doing it is reliable, why treat any other business differently?
Area Found is also a social community for businesses and people to come together. With a live updating news feed, you can find out if there have been any new businesses opening up in your city, as well as changes that are made to their profiles. You can find the Final Web Design business profile on Area Found also.
Get unbiased reviews on local businesses from people just like you that are always on the hunt for great products, food, and discounts. Area Found takes local shopping and coupons to the next level by bringing them together in one easy-to-use website.