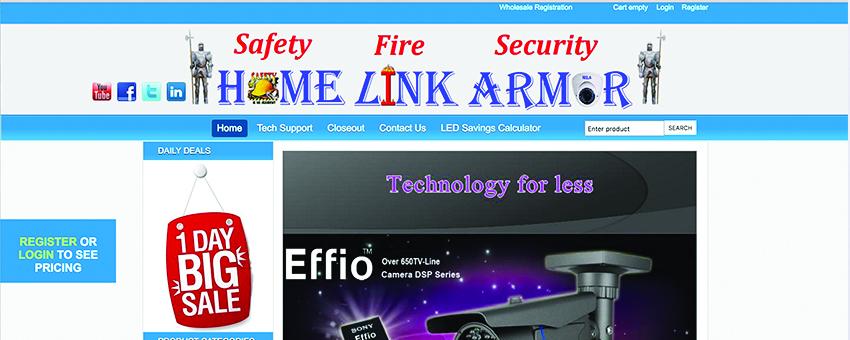 Nothing's more important than protecting our family, our investments, and our businesses. While we may be very wary about how much we spend on other things, most people realize that they need to use any and all security technology available to protect the things we love and what we've worked so hard to earn. Unfortunately, one of the biggest drawbacks is that you usually have to go through a variety of companies and various manufacturers to create the system that you need for your home or office. Home Link Armor is the new solution that families and business owners alike can use for all aspects of security and protecting their valuables at all costs.
Security Cameras, CCTV and Alarm Systems
Closed Circuit Television and security cameras are no longer for the folks with all of the money. Video recording is now becoming commonplace in the average household. With easy access to your video feed from either a receiver or even with online software, people are able to monitor their homes and offices from almost anywhere that has a remote internet connection. HomelinkArmor.com can set up any consumer or business with a package that's custom-built for them. With everything from high-definition video receivers to DVRs with a seemingly endless amount of hard drive space, you'll never miss a moment, and with wireless technology, you won't be stuck fitting the bill for the expensive costs of complicated wiring.
One of the best ways to scare off would-be burglars and alert authorities to a break-in when you aren't home is with alarm systems. Advancements within alarm systems today give people access to the true protection they need to guard every loophole in the access to their home. Keeping a home safe is easier than ever with alarm systems today that promptly alert the right team to help assure that your property is safe, even when you're not watching.
It's not always whether or not you lock your doors that's important to safeguarding your home or office that's important, but the technology that you use to do so. Technology such as pin-pad access and magnetic locks provided by HomelinkArmor.com offer a much better alternative to the generic lock and key that thieves have had plenty of time to learn the art of perfecting. Getting into your home can still be simple for you, but complicated for intruders when you have the right technology implemented in the right places.