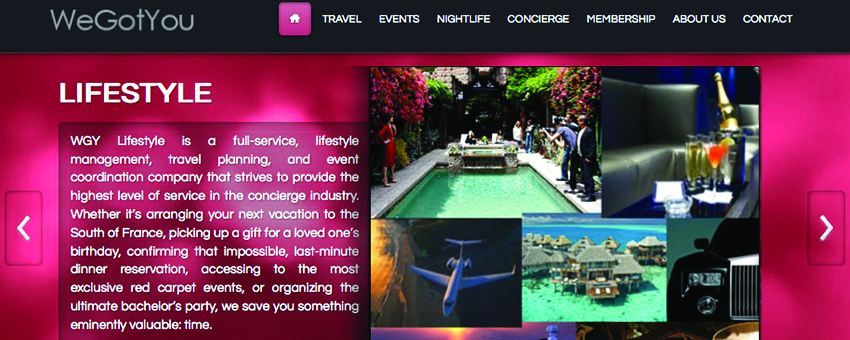 While not everyone leads a busy lifestyle, those of us that do can often get stuck having trouble separating our professional lives from our personal lives. All too often, the thought of accomplishing tasks like booking a personal vacation, getting dinner reservations with our family, or even the job of getting a gift for a friend or loved one seems to be easier said than done. While we work for a better lifestyle, the opportunity to enjoy that lifestyle gets more difficult the harder we work. To help you keep your personal life organized and make sure that you can still get your own time away when you need it, We Got You Lifestyle, at wgylifestyle.com has the solution for everything you might need.
When you have some well-deserved time off coming up, the few minutes you have in your workday might not seem like nearly enough to properly book your trip and get away. Forget trying to deal with travel sites that want to sell you a package you're only going to use a portion of. Wgylifestyle.com is out to make sure you enjoy your travel plans with a full-service in-house planner at your service. You'll get international access to luxury travel, public and private jets, and all hotel reservations and upgrades that are available in an area that you're interested in, to help make sure you build the best itinerary with no mistakes.
As a businessman or entrepreneur, your events for both your colleagues and friends can seem like one of the most important things that you organize. In the middle of rushing around, however, it's easy to get lost in all of the details. WeGotYou can handle all of your private party planning, including catering, decorations, venue booking, and entertainment. You'll find that WeGotYou's extensive list of services for your event will have your attendees raging about your gig for weeks to come.
The last thing that's on your mind during your busy day is what you've got in store for the evening or weekend. Setting up your plans ahead of schedule often becomes a bit of a hassle, especially if you don't know who to call. WGYLifestyle.com allows for you to tell them what you're looking for, no matter where it is, and they'll handle the rest. From nightclubs of international fame to tickets to a concert you forgot to buy, WeGotYou is going to be sure to take care of your evening accommodations.