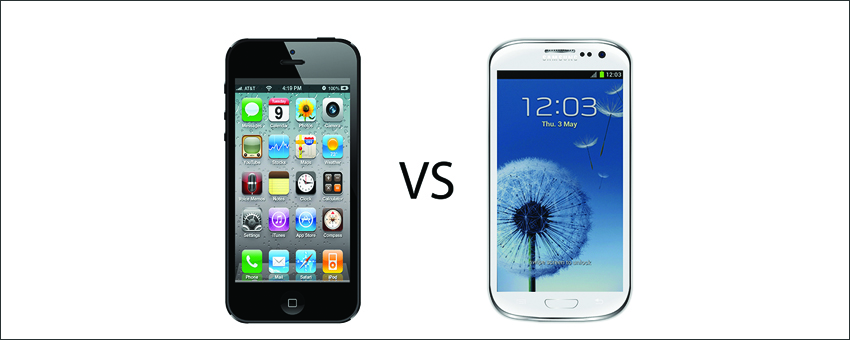 The iPhone 5 vs. the Samsung Galaxy 3: and the winner is… Comparing the superiority of one smartphone over the other really depends on what camp you're in: Apple or Android? Making comparisons between the performance of the iPhone 5 and the Samsung Galaxy 3 is like selecting your attire. The real question to consider is what purchase makes you feel more comfortable and look better and what best fits your lifestyle?
If history is an indicator, the selection process will essentially be determined by a single benchmark: are you an Apple fan or an Android fan? In terms of pure functionality, what differentiates one product from the other largely deprives either of having a decisive edge over the other. So, it's not likely that a diehard Android fan will switch to an Apple product and aficionados of iPhones are not likely to opt for an Android.
With a popularity race this tight, benchmarks aren't all that relevant. If it helps, here is a brief description of some of each mobile device's pluses and minuses.
Speed
Although most benchmarks give the iPhone 5 the edge in speed, the difference between the two is so insignificant that it doesn't constitute a tie-breaker. According to GeekBench's benchmark study, the iPhone 5 scored 169 points faster than the Galaxy dual-core Snapdragon S4 model. However, the quad-core Galaxy S3 beats Apple's top-of-the-line iPhone 5 by 170 points.
Ergonomics
The new Samsung Galaxy has been criticized for the placement of the "Home" button sandwiched between the two touch-sensitive 'Back" and "Menu" buttons. A fatter "Home" button would improve functionality. The Galaxy's buttons and ports are located around the outside edge of the device. They are ergonomically well-placed and user-friendly. The device is light and thin and fits easily into the hand of such a relatively large phone.
The iPhone 5 is slightly smaller but has a heftier feel than its competitor. Ergonomically, the iPhone is well designed with little change from its smartphone predecessors in feel and appearance.
Under the Hood
The U.S. model of the Galaxy S3 is a duel core device versus a quad-core model available outside of the states. According to PC Magazine's assessment, iPhone 5's Snapdragon beats Galaxy's dual-core SGS3 while Galaxy's quad-core S3 is slightly more than Apple's latest addition the smartphone universe. Let's call it a wash.