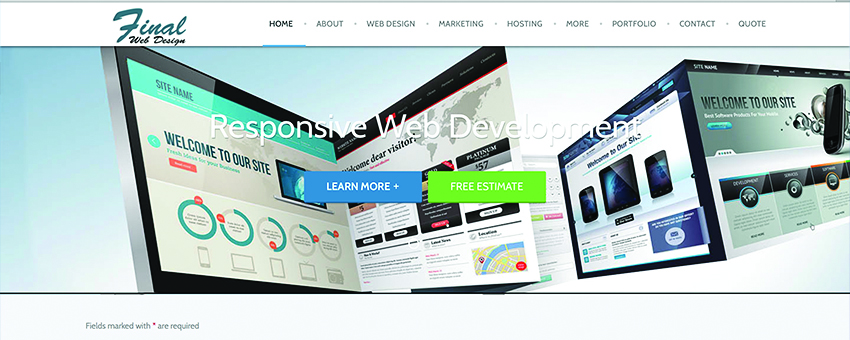 Web design is often something that people take too lightly. Whether you're an e-commerce retailer or a private blogger, people often underestimate the work it takes to get a website off the ground and drive a substantial amount of traffic that will ultimately help you add to your fiscal goals as well as your bottom line. Final Web Design understands that you need more than just a simple website. From functionality to user experience to a user-friendly backend interface and everything in between Final Web Design has a team that can help you meet the needs of your business or brand.
Final Web Design website design service is an amazing multi-step program that involves several specialists in specific areas. From concept to launch your site is looked at from every possible angle. When you meet with Final Web Design for the first time, your ideas are taken in and combined with those of a team of internet marketers who know how to present your offerings to the online space. Upon designing your site, you'll receive constant communication with the Final Web Design team with the opportunity to give your input on every step. You're never left behind or ignored. Final Web Design knows that your brand's image is the most important thing to you and would never let that get away from them.
Along with design, FWD understands that SEO strategies should be one of your most vital elements to get your website off the ground. Through proper site structuring, content generation, and keyword focusing, Final Web Design makes your website not only search engine friendly, but user-friendly as well. Keyword-stuffed websites are usually an irrelevant resource for users who are quick to bounce off these spam filled websites. FWD understands that there's a method to the madness when it comes to ranking on major search engines, and you need to further enhance your search results by engaging your audience rather than just engaging Google.
Even when you just need hosting, Final Web Design knows exactly the processor power you need for handling your website. You'll get a great deal on web hosting prices while keeping your crucial site speed maximized for the best user experience possible. It's time to stop taking matters into your own hands and let people who have daily experience with websites give you the boost you need. Final Web Design is the perfect resource for getting your site off the ground.