USA Grow Shop was a recent eCommerce website we had built for a company that markets and sells professional gardening and growing equipment. This is an increasingly popular industry so it was extremely important that we made them stand out from the competition. Starting with their logo, we took a minimalistic approach that would express a simple and clean look. The logo was designed to be appropriate for the business – the color and leaf imagery successfully expresses the company's industry to the viewer. Working with our client on designing a logo that they love helps us to establish a theme for the website, and give us direction as we begin designing the web pages.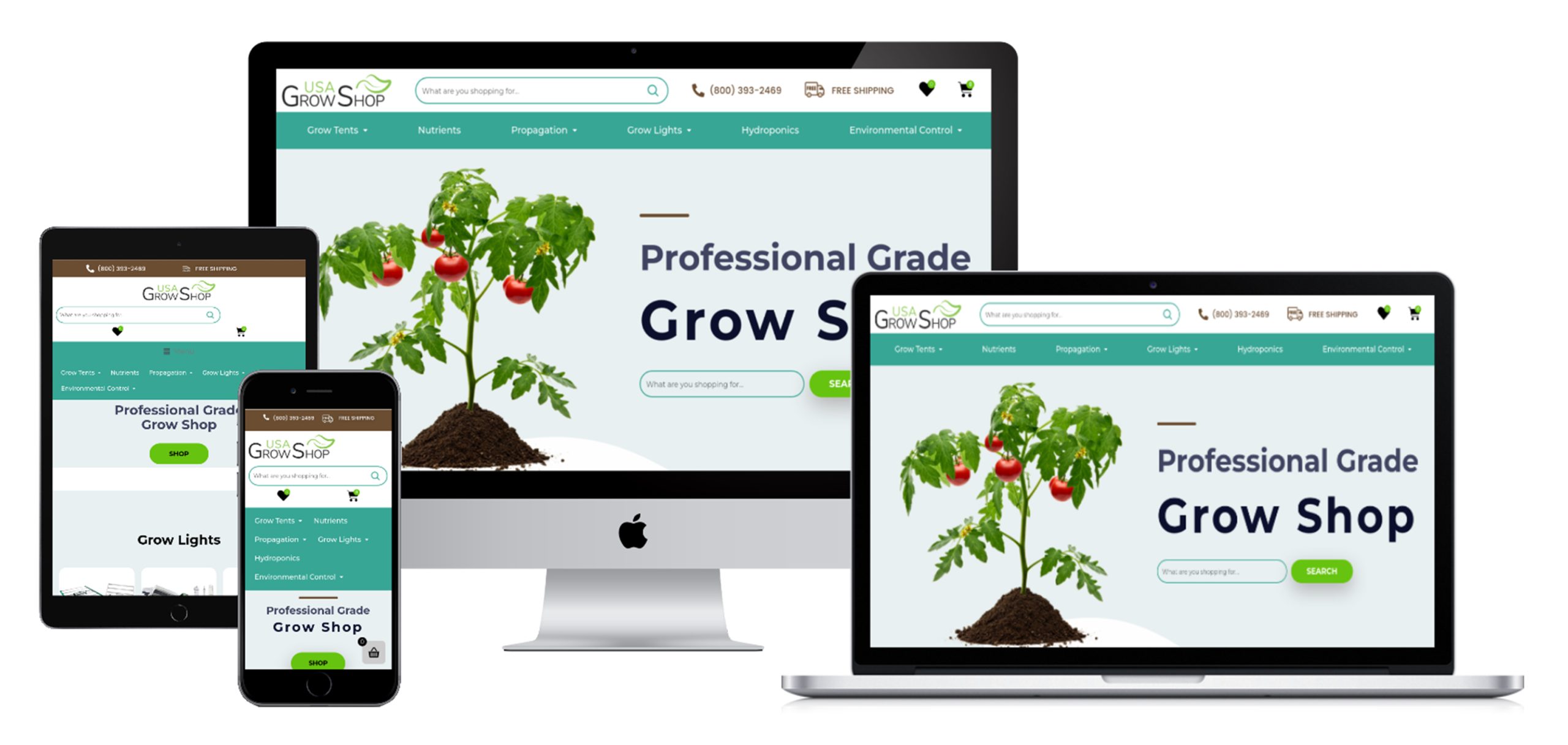 The Goal
---
Initial Strategy
The initial goal with this website was direct, and we were able to help our client find and outline key focus points that we could prioritize throughout this project. As with any project we take on, our team members will research the industry that the website showcases in order to evaluate their competitors, become knowledgeable about the products and services, and to scope out potential obstacles and solutions.
Top-Tier Design
Since this company was growing by taking their business online, they of course had other competitors in the field. This made it an absolute necessity that we provided web page designs that were sure to catch a users eye. It was important that the design was appropriate towards the industry – gardening and growing supplies. Part of our strategy was to ensure the layout of the design was minimalist, uncluttered, and had a "fresh" feeling to it. This design theme was accentuated with white backgrounds and natural, earthy colors as an accent throughout each page.
With any website, navigation is especially important. This was a main focus for this project due to the amount of products that would need to be included on the site. We ensured that users could search, select, and purchase the product they need in as few clicks as possible. All pages were designed to flow well and help users easily find what they are looking for. Users are able to search for specific products, browse product categories, or explore featured items.
---
This project was a great success, and our client was extremely satisfied with the outcome. Through research of the client's industry we were able to effectively strategize the framework for the USA Grow Shop's logo and website to help place our client above their competitors. The page design we implemented is appropriate for the company and conveys the 'fresh', 'earthy' tone we want the users to feel. Navigation throughout the website was carefully designed to help users find and purchase products easily and without confusion. Overall, this project was successful and our team enjoyed helping make this client's vision a reality.
The success of a large growing operation demands careful planning. Whether you are growing 100 plants or 10,000 plants, you need a consultant that can help you make the most of your business. Our commercial grow consulting is affordable and proven to be effective.