Another year has passed and many businesses may not have seen the SEO results they were hoping to achieve in 2018. Let's take a look back at some of the good, the bad and the ugly in Search Engine Optimization over the course of 2018 and what to expect in 2019.
0:25 State of SEO Introduction
1:04 Google Organic
1:44 Google Ads
2:17 Google Local Places
3:05 Blogging
3:40 Meta Tags and Descriptions
4:24 Backlinks and Reviews
5:15 Quality Content
5:45 Conclusion
Search Engine Optimization or more commonly SEO has become a buzzword and debatably less important. Search Engine Optimization's overall strategy of generating new leads and businesses online has become increasingly competitive. Here are a few of the SEO services we can expect and their place in 2019.
Google Organic Became Less Relevant
SEO in almost every market continues to get more and more competitive. Google search results are only able to provide a limited number of the result in their markets top organic results. These 'top organic positions' or 'first page results' are almost impossible to obtain on national or large geographic area.
Google Ads has become Increasing Competitive
Google Ads is another outlet that found itself increasingly competitive over the course of 2018. Competition and thus prices of ads continued to increase throughout most markets and geographic areas of the country.
Google Local Places is Even More Powerful
Reviews, reviews, reviews… 2018 was an important year for reviews, and 2019 will be even more important. Reviews have started playing a more important role than ever before, increased reliability in reviews was responsible for more sales decisions than ever before.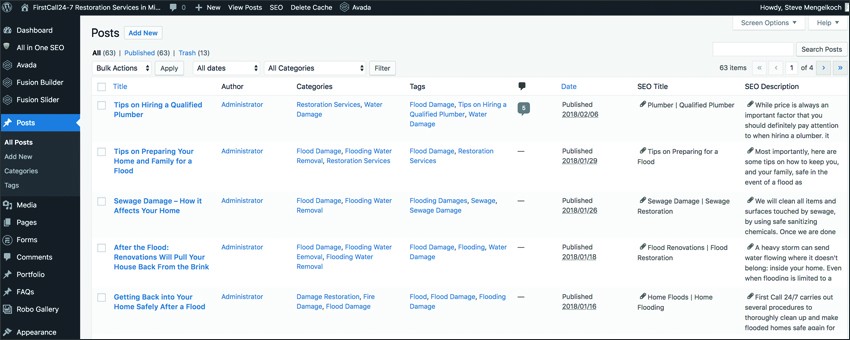 Blog, Blog and Blog More…
As always blogs continue to be one of the most important SEO elements in all of today's largest websites. Creating content that engages users is one of the most important elements of a successful website.
Most blogs are evolving from articles to video as users begin to engage with video at an increasing rate. Video offers a more interactive way of receiving the data users were searching.
Meta Tags and Meta Descriptions
Its been several years since metadata has played a significant role in SEO. 2018 continued the downward trend of metadata implementation. In 2019 we say you can comfortably stop implementing metadata into your website pages.
Backlinks and Reviews Lead
Reputable links are one of the most important elements of powerful websites, 2018 was no different. Establishing your website with links is important in showing Google your companies reputation to other large websites in your market online.
Good customer service is always positive for all businesses however with today's multiple online review outlets, it is increasingly important to make sure every customer is happy with your services.
Quality Content is Still King
Most importantly quality content continued to take the leading role in building a successful web presence online. Video content will continue to play an increasingly important role in user retention on businesses in every market.
2018 was a year that continued to redefine SEO and lead generation. Although there is increased competitiveness, businesses that implement a strong SEO approach will drive new business and leads through their efforts. 2019 is going to play an even more important role in establishing new and growing businesses through SEO and digital marketing outlets. Contact the team at Final Web Design today if you would like to learn more about how we can help build and grow your business through popular SEO techniques for the coming year.