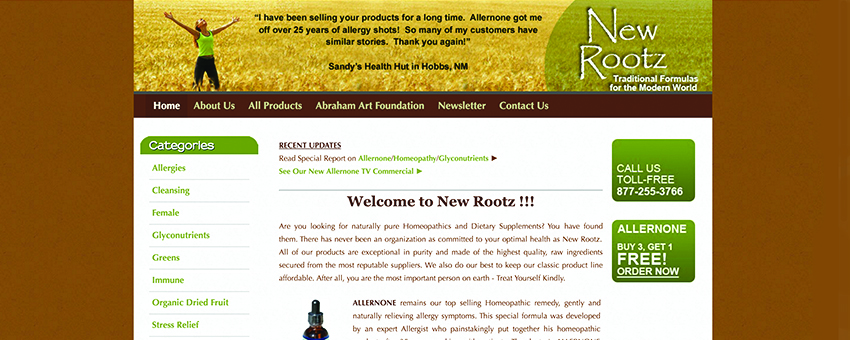 Nutritional supplements are a dime a dozen these days. We've been through countless websites that have hundreds of products. While a few may have one or two positive effects, most of them seem to do absolutely nothing for your body or your health, and may as well be like taking an empty gelcap on a daily basis. We're sure in the very long run there may be some bonuses that you get out of several nutritional supplements, but it's tough to see any positive results from products on most of these websites.
Recently we came across NewRootz.com. Like most other sites, we went in with a skeptical frame of mind and didn't expect much. We were shocked to see that they've only approved a small handful of products. This can say a lot about a website, specifically that they aren't trying to just sell whatever works and hope to make some money, but that they only sell products that they stand behind. However, this reason didn't become absolutely clear until we tried several of their supplements ourselves.
Their most famous seller is also a favorite of ours. With seasonal allergies that cause sneezing, runny noses and watery eyes throughout the family, we're always on the lookout for the best allergy relief that we can find on the market. Allernone was one of the first products on their website and uses 20% USP Alcohol to help clear out the worst of allergies. You pay a little bit for it, but it's more than worth what this stuff can do to rid you of annoying seasonal allergies that are always getting in the way of enjoying your spring and summer.
We also really like the Ultimate Green Drink in a capsule product that they offer, which seems to be the most popular by the count of reviews that we can see. With vitamins and minerals that were pulled from plants in their natural state, you can figure out that this product going to be all-natural.
We could go on forever about several of their other products, but we highly recommend that you give them a call and speak with their friendly staff for more information. Everything is manufactured in the heart of Texas, so you don't need to worry about cheap imported products contaminating your daily diet. Give New Rootz products a try today, and we're sure you'll be set on a new supplement provider. The new NewRootz.com website was designed and developed by Final Web Design, view the site at NewRootz.com