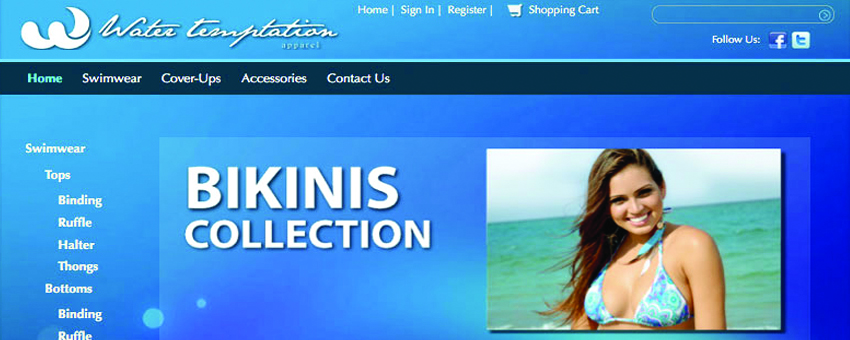 Summer is here, and you've spent your entire off-season trying to get the perfect body ready for the lakes, rivers, oceans, and beaches that you'll hopefully spend hours around. Basking in the sun for the perfect tan isn't going to do you any good if you can't look good in the skin you've got. Complimenting your new beach body with the perfect outfit is crucial for your summer look. So when you've got to get shopping for a bikini, forget the department stores and their outrageous prices, and head on over to Water Temptation Apparel at WaterTemptation.com.
Gone are the days when you have to pay top dollar to get the best fashions in bikini wear and other bathing suits to soak up the sun when you're out on the beach. From thong styles to banded bikinis and so much more, you can find dozens of bikinis to fit your style and size with prices as low as $12.99. With vibrant colors, patterns and looks to match your needs, you'll never be without the perfect bikini for the water or the sand.
Want to show off a little less skin while still enjoying the beach? The cover-ups at water temptations are second to none. Each dress can pair perfectly with either a bikini that they have available for your to purchase or one that you already one. With various levels of mesh and fabric thickness for you to choose from, you can choose to show as much or as little as you want, while still looking great all summer long.
Water Temptations unique line of bikinis and cover-ups is sure to please any beach goer, from the clear waters of Miami Beach to the blue water of Lake Tahoe, the variety that's available at Water Temptations is greater than anything you'll find at your local retail store.
Grab your sunglasses and your flip flops and head on over to WaterTemptation.com to get the best styles for the body that you've worked so hard on perfecting during the offseason. With Water Temptation Apparel, you'll be turning heads with every mile of pristine sand that you cover this summer.