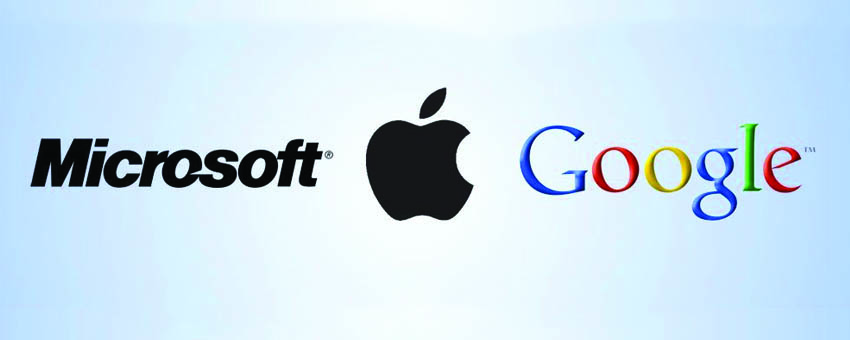 These days, it's difficult to know what business a tech company is in. Microsoft is in the tablet business and Google is manufacturing smartphones. In the meantime, Google has entered the robotic auto manufacturing business. Investors must be scratching their heads to understand the core business in which they thought they were investing. It appears that the corporate strategy for all three is to find new revenue streams while the initial business models deal with maturing markets and intense competition. Here is a brief synopsis of how the three companies are faring in their search for greener pastures.
Google – The search engine behemoth has been under attack by regulatory agencies who are trying to tag the company for deceptive practices. Drumbeats are being heard in the distance concerning the possible breakup of Google as a way to introduce new regulations being introduced by a litany of government agencies and activists.
Apple – The Company's financials are missing the mark and that's making investors nervous. Industry scuttlebutt has it that the new iPad mini that Apple has high hopes for is significantly overpriced as it attempts to make a foothold in a highly competitive market. Although loyal Apple fans will probably support the product, concerns for future growth is taking some polish off the apple.
Microsoft – The venerable software company entered the fray with three new product launches; the much-ballyhooed Windows 8 O/S, the Surface Tablet and the Windows 8 Smart Phone received much attention. But, By Microsoft's own admission, the company is relying heavily on the success of the new Windows 8 Operating System. Microsoft explained that the reason for the development of the Surface was to have a tablet that would best showcase Windows 8. Looks like Microsoft is betting the farm on this one.